The Guardian view on Oxbridge admissions: race, place and class matters
It would be fairer to judge A-levels in the light of the socioeconomic context in which they were achieved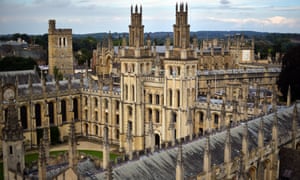 Earlier this month Oxford University put up a plaque to celebrate its first black graduate. Christian Cole read classics and went on to become the first African-origin barrister in the English courts in the 1880s. Where Mr Cole once blazed a trail, few unfortunately have followed. Data extracted by Labour MP David Lammy shows that 10 out of 32 Oxford colleges did not award a place to a black British pupil in 2015. Oxford's great rival Cambridge University fared little better: six colleges failed to admit any black British A-level students in the same year. Britain's most elitist universities could put a plaque up for every black person they admitted and still have room for Cecil Rhodes statues.
There is a legitimate call to broaden access to the best universities. The top institutions are gatekeepers, in many walks of life, to a high-flying, well-paid career, often in prestigious fields where power and influence reside. Oxford – the alma mater of seven of the past 10 British prime ministers – and Cambridge regularly vie for the top spot in global university rankings. Race matters; as does place and class. Wealthy, privately educated students from the south-east of the country dominate Oxbridge's intake. Oxford and Cambridge represent an elite within the elite. London's Imperial College, one of the world's best universities, took in double the percentage of black students Cambridge did last year. Within the Russell Group, representing the best universities, 6% of new young students come from the most disadvantaged fifth of neighbourhoods. At Oxford, it's only 3%. It is also claimed that universities are rejecting minority ethnic students when they judge that too many are taking a course. Without access to quality education, divisions that have opened up in British society are likely to widen, not narrow. This would be deeply corrosive, affecting the way the country works and the way it thinks about itself. There's plenty of evidence to suggest diversity should be prized – obvious when you consider that those from the same milieu probably share too much of their world; they are a lot less likely to introduce new information or challenging viewpoints. Resolving such differences is a creative act. This thinking has driven calls for a more inclusive Britain. In 1997, many of our country's professions were deeply elitist. Today, says the social mobility commission, they have begun to recognise the benefits of being open to a far wider pool of talent. It also explains why, for the first time in its 380-year history, more than half of Harvard University's student intake will not be white.
In Britain universities need to face up to the challenge of today's society and produce detailed statistics so deficiencies can be highlighted and tackled. There must also be a recognition that only a few hundred black Britons score the requisite three As or above to go the top universities. Similarly, only 1% of students eligible for free school meals do so, compared with 20% of all other state school pupils. We cannot reform the entire school system at a stroke. But we could, and should, judge A-levels in the light of the socioeconomic context in which they were achieved. Lowering entry requirements for applicants from disadvantaged backgrounds would signal a shift towards concern with fairer, rather than formal, forms of opportunity. Exams can break down inherited privilege. But at present they increasingly advantage those who have been schooled to excel in such situations.